Discussion Starter
·
#1
·
First, let me bitch for a bit... I upgraded from a beloved 2012 Platinum Armada to a 2019 Platinum figuring they would have their stupid Infotainment bugs solved in 7 years but shocker, they really changed NOTHING and are now way behind every other manufacturer in the market. What makes it worse, for me, is they have models that have carplay in both other markets and in other vehicles in the US market that cost much less than the Armada. Maybe there is a reason but for the life of me I can't figure it out.
OK, I stop...
My need. I wanted Carplay and Android Auto (I am the only Android user in the household), Wireless functionality, no clunky add-ons, like extra controls, and I also wanted a wireless charging system.
After hours of scrolling the internet and cold calling auto-installers here in Ohio I came up empty. Most said it couldn't be done in a 2018+ model as they (Nissan) removed the AUX port.
Wireless charging system
My first solution was in the Wireless Charging System. I stumbled this "Car Qi Wireless Charger Charging Intelligent Fast For NIssan Patrol Armada Y62 " on Ebay and decided to give it a try. Honestly, the post looked sketchy as hell but why not. It's rhetorical, I know the many reasons to not but I have a keen knack of just shutting off my mind.
Link to sketchy wireless charger -
Car Qi Wireless Charger Charging Intelligent Fast For NIssan Patrol Armada Y62 | eBay
The product arrived at my door in about 2 weeks, from China...... Or Gina, joking.. Opening the box I was kindof surprised. Everything looked to be pretty well made. It came with both installation instructions and a manual. Well sortof, they tried..
So jumping into it. Total install took < an hr. Overall complexity I give it a 2 out of 5. For me it wasn't straight "plug and play" as I couldn't find the power socket for the switch to match so I had to splice into the USB port power right beside where I installed the on/off switch. The switch itself popped right into one of the black slots in the dash. Its a little darker than the OEM switches but not bad. Functionality is great. It charges pretty quickly, not as fast as being plugged in. It has some nice adds like having some type of plastic holder thing so your phone doesn't move around. And best of all it makes use of that dumbass "ashtray" thing ?????? I guess that's what it is or was. Anyway, I have had it working now for 4 months or so. No issues. It works on all the Fams phones (Apple and Android), gives me a place to put my phone and well it charges....
Pro's
It charges
It makes a nice place to put my phone
Its a pretty easy and quick install
Pretty good quality
Switch plugs right into the dash blank
Con's
I don't like the color of the dash switch light and the switch is a little darker that the OEM switches
Again for me (maybe other can find it) I had to splice in the hot and ground (super easy but still a con.)
It cost $120 (worth every penny) but since the install I have found the exact item on other sites for cheaper
Carplay/Android Auto
So I finally found a Manufacturer in Australia that confirmed their system worked on a 2019 model. The Company is called Naviplus, website below.
Again I made the jump. Product arrived in about a week via China, Japan, Australia and many US states. Seriously, this thing put on some miles. Back to whats important. Opening the box the product was packed well, lots of wires and parts all indiviually packaged with care but nothing else. No installation instructions, no manual, no packing slip. Well, I contacted the manufacturer and with a 14 hr wait time (time difference) they responses and emailed me the instructions. Making this an honest review the instructions were subpar. They were accurate but read more like an cliff note version and proppted many many more questions from me. To Naviplus defense they answred my many questions, one by one. They responded quickly, almoast instintainouly via email if the timedifference worked out. The overall install took about 2.5 hours. Complexity was about a 3 out of 5. For me the scariest thing was opening up the monitor to install the bypass ciruit. But again, not hard. The system is pretty much "plug in play" and seemed to be pretty well made. It came with everything except I choose to purchase a USB outlet that plugs into another blank dash socket to make it more OEM and a solution (still working on this) to not need a plu into the USB ipod port in the dash. I may have this solved but waiting on parts from Amazon. I have had the system installed for a few days now (still new) and overall teh funstionality is good (not great). Wireless functionality works great with Carplay, once you figure out how to do it (again no manual). Android auto wireless funstionally is spotty (it will crash sometimes) but wired has no issues, yet. To their defense they did tell me the Android Auto wireless functionality wasn't available yet but would be in future software updates. I will attach some pics and video if possible.
Pro's
It works (really well for carplay)
It pretty much keeps the OEM look (minus the Ipod connection which is solvable onve I find a Nissan 4pin female connector to USB wire)
It has built in wireless functionality
Its pretty much plug and play
Product support is OK. They respond quickly to question but with one word answers. Its like talking to my 14 year old daughter
Cons
It costs ~$700
It comes with no instructions or manual
It has the one wire that stands out to me (iPod connector). Wish it came with the adaptor but I'll figure it out.
Wireless functionality for Android Auto is sketchy . Hopefully they have this solved soon
Steering wheel selector will not work with Carplay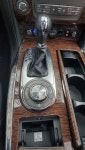 Overall I think I would do it again. I'll provide an update in a few weeks or so. Hope this helps someone as Nissan is Fing stupid for not having this functionality in the Armada. Shoot me questions and I'll try to help if possible.