Discussion Starter
•
#1
•
Taken from our Blog on FontanaNissanRacing.com
http://www.fontananissanracing.blogspot.com/
Wednesday, September 30, 2009
Pahrump!! RTA Round 7 @ Spring Mountain
On Friday, September 25th the Fontana Nissan Racing team headed to Pahrump Nevada to attend the RTA Round 7 at Spring Mountain Motorsports Ranch.
After a very early yet uneventful drive, the team spent Friday afternoon setting up the big top in the paddock area. The 100+ degree temperatures were an indication of the expected weather for the entire weekend. Break out the SPF 100!!
Practice went smoothly Saturday, with the 350Z running the best it had run all year. We had good balance on the Yokohama tires and the new Endless pads came in nicely. We are still amazed at how much more down force we are getting from the new louvered hood.
The GTR went well in practice running in the 2:32 range. The GTR now sports a custom roll bar and much more driver friendly Sparco seats and belts.
Mike ran a few laps in the vintage racing Firebird, doing 300 foot long burn outs coming out of Spring Mountain's tight corners. This spectacular car is always a fan favorite where ever it goes.
Sunday running the 350Z we continued to tune for the new tires. We were able to run a 2:22.90 in the heat of the day, a whopping 10 second improvement over the previous RTA track record. The turbo cars were able to turn up the boost and set some really fantastic times. We continue to be the fastest naturally aspirated car in Red Line and probably the fastest 350Z in the country.
The GTR ran well but continued to have some heat issues that the 100+ degree heat certainly did not help. Mike gets the GTR around awfully quickly and we continue to be the fastest and least modified GTR.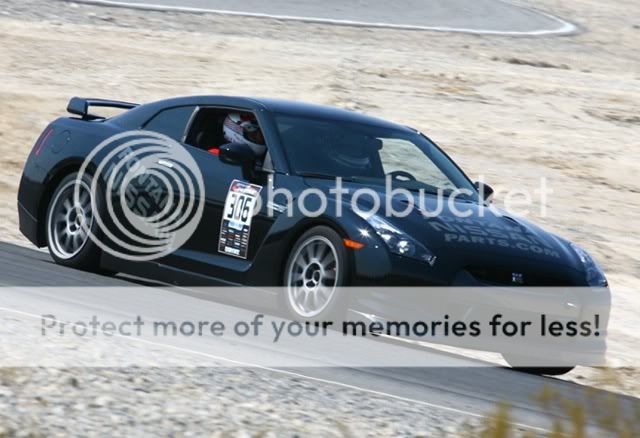 After all was said and done the Fontana Nissan 350Z finished 2nd in Unlimited Rear Wheel Drive and the GTR finished 5th in Modified All Wheel Drive.
Next up will be some more minor tweeks to the 350Z and we will be off to RTA Round 8 in November at the Auto Club Speedway. The big horsepower turbo cars are certainly going to put on a show at the Auto Club Speedway. We will be showing what an N/A 350Z is capable of. Make sure to mark your calendars for RTA Round 8 November 14th and 15th. It will be a great event and we look forward to meeting everyone!!