Ok guys here's another one to look/listen for.
Monday morning I had no heat AGAIN while taking my son to school. When I got back home I said that's it! I AM going to fix this once and for all.
So after taking my center dash and glove box area completly off I found the problem.
If you hear one slight click when you turn from full cold to any heat setting, you may have this problem also. If you don't have this problem yet, eventially you will, sorry
.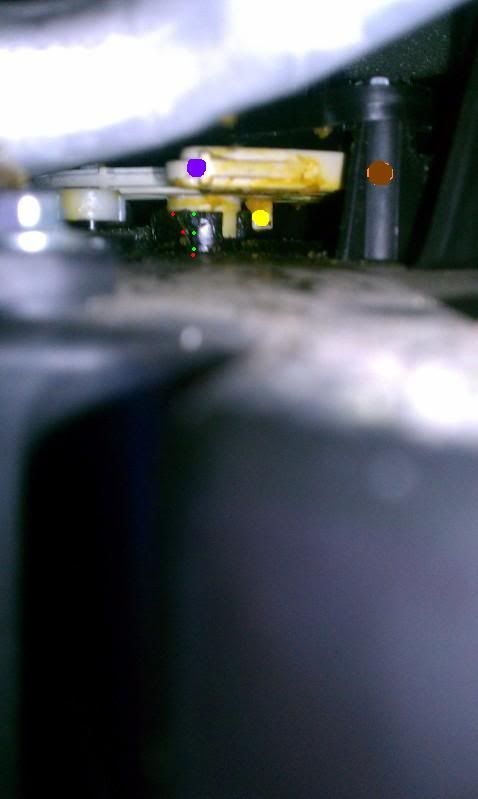 Referencing the picture above. The green dots form a vertical line. That's where the actuator STOP should be. Mine is actually bent back into a 45* angle, the red dots. This makes it form a ramp so that when you turn the dial all the way to the left the actuator arm contacts it with the little tab that has the yellow dot on it. It rides up and causes the arm to become disengaged from the actual heat and ac vent door arms.
When you turn the dial to the right, the click you hear is the arms re-engaging. Some times it doesn't re-engage properly and you get NO HEAT until you play with the temp. dial for awhile.
The saving grace is there is a mounting pillar similar to the one with the brown dot on it that the actual actuator mounts to that comes into contact with the part of the actuator arm with the purple dot on it because the STOP is bent back and allowing it to do so. Because of that pillar it will not 'over travel' any farther than that, thank God.
What I did, using automotive silicone I glued a thick piece of rubber (you have to trim it to get the correct thickness) to the mounting pillar that stops the arm in the position it would've been in if the STOP was still in a vertical position.
It's working like a champ
.
I took LOTS of detailed pictures but wouldn't you know it, only the ONE posted came out good, sorry
.
This fix works. A guy on TT did a similar fix but he replaced the bent back STOP with a very small piece of "L" shaped aluminium.
I did mine this way because my fix contacts the actual arm, not just the little tab with the yellow dot on it.
I wish I could've explained it more clearly for the people that have no clue what goes on behind the dash. *No offence* lol.